Champion of the Champions Cup: Eczacıbaşı VitrA
For the third consecutive year, Eczacıbaşı VitrA defeated top rival Vakıfbank to win the AXA Sigorta Champions Cup.
Eczacıbaşı VitrA beat Vakıfbank 3-2 to win the championship title and its first cup of the season. Before setting this new record, the orange and white team had already achieved a first by winning the Champions Cup, formerly called the Super Cup, four times.
After an evenly matched start with both sides scoring points, Eczacıbaşı VitrA strikers led a strong offensive play to win the game 25-14.
In the second set, Vakıfbank took the lead early on but then lost the game to Eczacıbaşı VitrA 25-22 after a stunning block by Eczacıbaşı VitrA player Chiaka Ogbogu.
Both teams fought for the lead in the third set, which Vakifbank won 25-18. Vakıfbank then went on to win the fourth set, resulting in a tie between the two rivals. In the tie-break set, Eczacıbaşı VitrA regained control to win the set 15-12 and the championship match 3-2.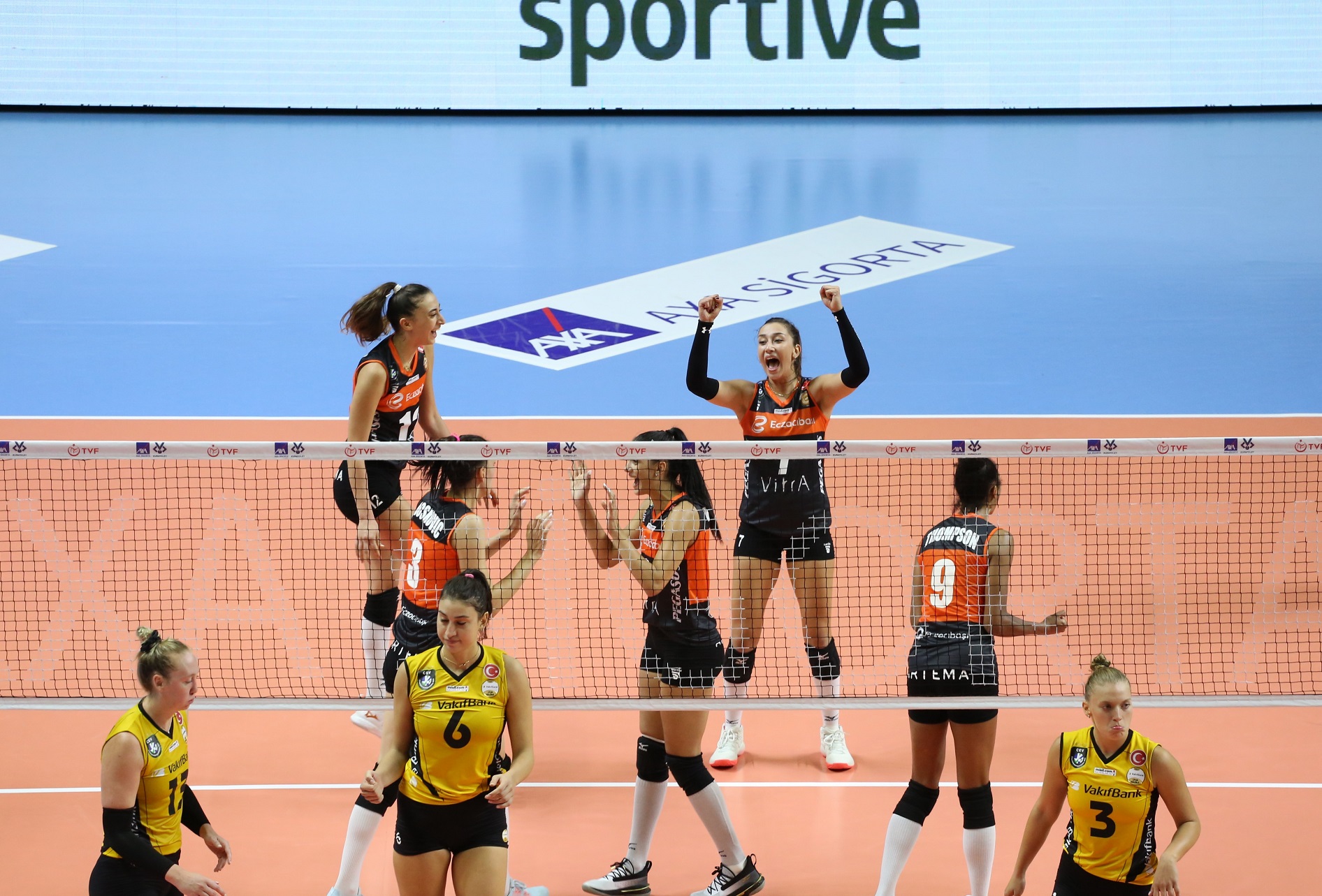 In the subsequent ceremony, Eczacıbaşı VitrA player Tijana Boskovic received the Most Valuable Player award. Akif Üstündağ, President of the Turkish Volleyball Federation, and Yavuz Ölken, CEO of AXA Sigorta Eczacıbaşı, presented the championship cup to Eczacıbaşı VitrA captain Simge Aköz, who dedicated the team's victory to the selfless efforts of all health workers during the pandemic.
VakıfBank – Eczacıbaşı VitrA: 2-3Hall:
TVF Burhan Felek Voleybol Hall
Referees:
Nurper Özbar, Mehmet Gül.
VakıfBank:
Cansu Özbay, Gabi Guimaraes, Zehra Güneş, Isabelle Haak, Michelle Bartsch-Hackley, Kübra Çalışkan, Ayça Aykaç (L), Meliha İsmailoğlu, Maja Ognjenovic, Gözde Yılmaz.
Eczacıbaşı VitrA:
Elif Şahin, Jordan Thompson, Yasemin Güveli, Tijana Boskovic, Hande Baladın, Chiaka Ogbogu, Simge Aköz (L), Beyza Arıcı, Sladjana Mirkovic, Saliha Şahin, Fatma Yıldırım.
Sets:
2-3 (14-25, 22-25, 25-18, 27-25, 12-15)
Duration:
128 minutes (22,29,27,32,18)